I Need to See More of Kyle Chandler.
I'm just going to get straight to the point; Kyle Chandler needs to be a bigger movie star. I've l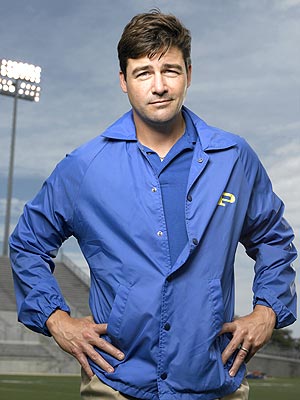 oved watching him as Coach Eric Taylor on NBC's Friday Night Lights for 5 years and now that the show has ended it's about time he becomes more of a household name. After just seeing Super 8 I'm convinced that he has the chops to hold a prominent role in a movie and frankly, he's a lot better than too many leading actors out there today. I'm wondering if his 2010 Emmy nomination for FNL (and hopefully another nomination and a win in the 2011 race) and being recognized by Steven Spielberg and J.J. Abrams will finally get him the career he deserves. With recent box office numbers taking a downturn you have to wonder if those dips are because studios keep rolling out mediocre films cast with walking Barbie and Ken dolls, and audiences becoming tired of it. Studios need to pick up more talented actors and Kyle Chandler should definitely be high up on that list of actors.
Kyle Chandler talks about Super 8, his home in Texas and his family on The Late Show with David Letterman.